So I think my favorite word is Clearance! Something about that magical word gives me goosebumps and makes me anxious. I was at my favorite place in the world a couple days ago...Target and found these simple white frames on clearance! Originally $9.99 and on sale for $2.48!
Since I am hoping and dreaming of redoing my kitchen I decided on doing a cute little frame in my accent color (Robin's Egg Blue). To see all the supplies needed click on this
link
1. First...I removed the backing and glass. Then I sanded everything down to get a smooth surface. Then wiped it clean with a dry paper towel.
2. Next I applied 2 coats of spray paint allowing it to dry in between each coat. Have I mentioned before I hate waiting?!?
(You can see in the picture that its not perfect but I kind of like it that way)
3. Next I took my stencil from my previous project and angeled it on the corner of the frame. Using my stencil adhesive I sealed it down and painted with my acrylic paint.
Then I used my sand paper again and distressed the edges a bit. I like that rustic look. I added a sweet black and white pic of my little family from when my daughter was first born and wha-la! My plan is to get a picture of my Z with a super messy food face, make it black and white and add it to the frame. Shouldn't be hard to get the pic since that happens hourly at our house... its a matter of getting the photo printed!
I still have not gone to the store to buy a seal for both my
Kitchen Mat
and my frame yet but I will soon! Now for the before/after photos:
Before:
After:
Before:
After:
Hope you enjoy!
Blessings!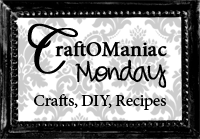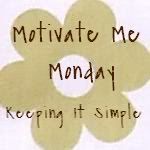 Linked on
Polly Want A Crafter?